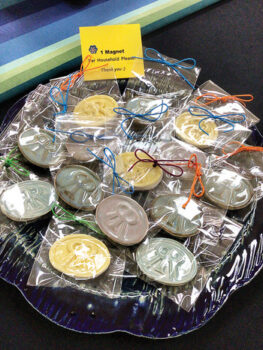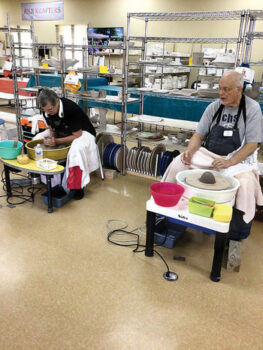 Karen Ellsworth
Pottery is alive and thriving at the Ranch! On July 11, the Creative Arts Center held an open house. What a huge success! Our pottery studio was overflowing with people interested in seeing what we do, how we do it, and learning about the process from design, to building, to bisque, glazing, and finishing. The open house had nearly 600 people in attendance and most of them came through the studio.
We had potters on hand greeting, giving tours, demonstrating hand-building, throwing on the wheel, sculpting, and teaching about the kiln firing process. There was also an instructor and video to explain about Raku pottery.
We had more than 45 people sign up to take beginning classes! Each person will be notified as to when their class will begin. The classes cost $70. That price includes six weeks of classes, the club's yearly dues, and 25 lbs. of clay as well as all the pottery tools needed. It's a great deal!
If you missed the open house, please feel free to come visit the studio on any Monday or Thursday. Anyone in the studio will be happy to answer your questions and show you around.