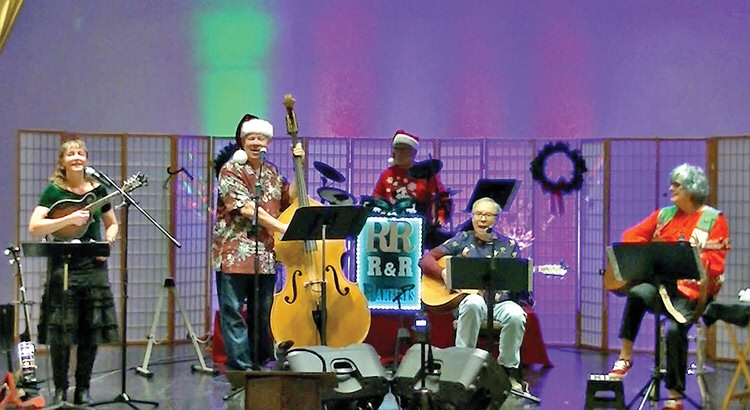 On the evening of Wednesday, Dec. 8, the Robson Ranch Rhythm & Roots Ramblers band and the Robson Ranch Pilot Knob Rotary club co-sponsored a Christmas concert and charity event at the Robson Ranch clubhouse ballroom.
The band started the evening off with singing some of their standards, Bluegrass, Country, Traditional, and Pop songs. There was a short intermission to allow Rachel Yeatts, a member of the band and a volunteer with CASA, to share information about CASA and her experience with the organization. Karen McDaniels, president of Pilot Knob Rotary, also thanked those attending and for their generosity in giving. She also spoke briefly about Rotary and its mission. The band finished the concert with a few more standards and closed the concert with Christmas songs.
The charity event was for CASA of Denton County, Court Appointed Special Advocates. CASAs are trained community volunteers who advocate for the best interest of abused and neglected children in Denton County. There are currently 752 (2020) children in the program and 200 advocates.
People attending the concert were asked to bring $25 or $50 gift cards for CASA children Christmas gifts. A table was set up at the concert with a box to put the cards in. Pamphlets were shared about CASA and with the option to make a monetary pledge if one wished to. Cash and a check were received as well. Robson residents are known for their generosity, and they didn't let these children down. The total combined amount of gift cards, cash, checks, and pledges totaled to a very generous amount of $3,860. The band and Rotary want to thank all who attended and gave. This truly made these children's Christmas a lot brighter.
Robson Ranch Rhythm & Roots Ramblers band is made up of musicians who reside at Robson Ranch and are from Denton and Justin. In 2022 they will be changing their name to Robson Ranch Ramblers. The band's playlist consists of Bluegrass, Country, Traditional, and Pop music. The band travels from driveway to driveway and party to party, playing music for their friends, neighbors, and anyone who will listen. If you are interested in having the band play in your neighborhood or for your event, contact Charlotte Ivy at 915-525-6317 or email [email protected]